So it was 5 years ago. She is my cousin and comes to my place around once or twice a year. As she was at my place , we slept next to each other. The bedroom door was closed. We had little bit of talk about random stuff and turned off the light and sleeping. Slowly she and me came close. I put hand over her body, to which she didn't resist.
Slowly i went close and was firmly in a position of cuddling. I had an erection and was trying not to get too close so that my penis touches her. But she came close and I could feel her body touching my penis.
I am in a position somewhat like this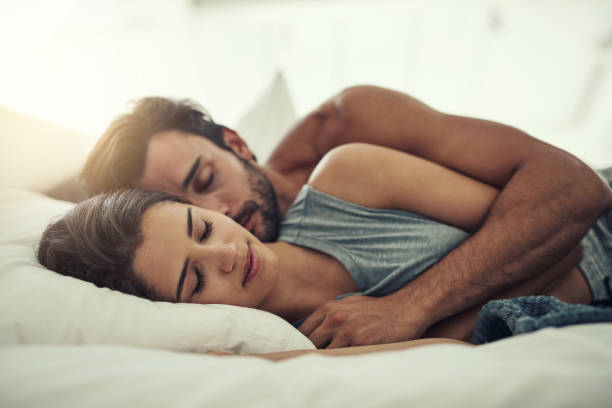 Somewhere i felt she liked this, i too firmly went very close with whole of my lower body touching her. She turned her back to me and i was cupping her lower body. With my penis firmly between her buttocks.
I was enjoying this sensation. I was sure she was okay with all this and I proceeded to my hand near her breast, sensing no reluctance from her I put my hand on her breast. I could hear the moan from her once i started cuddling them.
I started rubbing my penis on her ass which gave me lot of pleasure. Slowly she put her hand on my penis(with clothes on) and started rubbing it with her hand. I guided her hand into my pants and she was getting the feel of it and trying to rub it as we masturbate. As it was paining me a bit, i showed her how exactly and slowly should she do that.
It was completely dark. I pulled down my pants so it would be easy for her to give me a hand job. After some time she turned her face to me. I pulled up her kurta, and put my hand below her bra. I could feel her soft breast under my hand. I cuddled with them for a while.
Suddenly she started moving below. I initially thought she might be fondling her breast to my penis, which we actually did. Then she again started giving me a hand job, this time very properly and slowly as she was way down below and near my penis. Then she went down a bit again. I was now sure of her intentions. She went down and then put her mouth near my penis. I sensed some reluctance from her at that time. She first opened her mouth little bit, put toungue on the head of my penis, as if she tasted it. Then i guess it felt it okay and then she put the my whole penis inside her mouth. I could feel the warmth of her mouth on my penis. That was one of the best feelings i have had. She then gave me proper blow job to which i moaned like anything.
Finally when i was cumming i withdrew my penis from her mouth and immediately pulled up my under wear which would soak my cum. I didn't want her to put semen in her mouth. She then moved up, i guess she figured i was done and she pulled down her kurta, i pulled up my pants and we finally slept.
We never talked about what we did nor did we acknowledge it. We just enjoyed the acts and let it go out of our lives. We've never again slept together, as in we had but there was always a third person with us, so we could not repeat the act.
But that blow job was one of the best things i have had in my life from her.